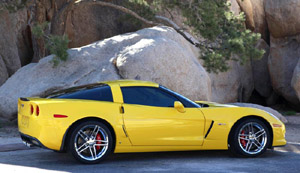 Now you can get a dual package of cool looks and tremendous value when you choose to have your auto windows tinted by Pro Tint. Serving the Tri-Cities (Kennewick, Pasco, Richland) since 1986, we are proud of our reputation for quality, service and affordable pricing.
Whether you have a bright and shiny new sports car, a rugged 4WD Truck, a family car, van or SUV, we can improve the look, appearance, comfort and security of your automobile with our window tinting services.
7 Reasons To Tint Your Auto Windows
Decrease Heat Buildup: Today's high tech window tinting films is extremely efficient at controlling the effects of solar energy.
Reduce Fading: Protect your car's interior from the damaging effects of the sun on upholstery and carpet.
Cut Glare: Whatever the cause – direct sun, reflectinos from snow, water or surrounding buildings – there is an ideal films solution to cut blinding glare.
Increase Safety: Shattered glass is a hazard when accidents happen or when vandalism occurs. Protect yourself from Smash-and-Grab burgluries and gain additional protection offered by security window films can provide an additional "safety net" to keep you and your vehicle more secure.
Enhance Appearance: A smart and uniform look to your vehicle.
Additional Privacy: By using a darker tint on side or back windows, you can increase your privacy in your vehicle. No more prying eyes at stoplights or on highways.
Quality Assurance: Lifetime Warranty for as long as you own your vehicle.
At Pro Tint, we deal in a variety of different window tints to meet every need. Here are a few of the window tint films we keep in stock at Pro Tint:
SunTek Films: SunTek offers a full line of Automotive, Architectural, Safety & Security, and Specialty window film and window tint products. All SunTek Window Films are exclusively manufactured in the United States.
Johnson Window Films: Providing much more than just good looks and cool comfort, professional automotive window films from Johnson Window Films will deliver benefits beyond your expectations. From reducing fuel consumption to a safer, anti-glare view, you will enjoy an improved driving experience. When you choose one of our films for your vehicle, you're teaming up with 35 years of manufacturing experience and dedication.
Llumar Window Films: LLumar automotive window tint can enhance your vehicle's appearance, reduce heat and glare to provide a more comfortable interior, and offer valuable protection against the unexpected. Look cool and feel even cooler with custom tinted windows featuring superior-quality LLumar window film.
Aegis Films: Advantage Automotive Films are manufactured unlike any other film. Made 100% in the USA, Advantage Automotive Films are designed to the specifications of installers. Advantage Automotive Films Heat-Shape very easily, therefore the film is less likely to be compromised during the installation process.
Madico: Madico Automotive Tints are available in a variety of shades and colors making it easy to accent the look of your car, while taking advantage of the pinnacle of tint technology.
This is just a sampling of the many different window tinting films you can choose from for your automobile. All available in wide variety of shades to choose from.
Call today for a FREE ESTIMATE: (509) 735-1010.
Comments
comments