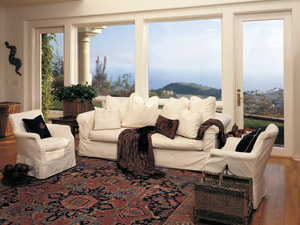 Now you can add affordable value to your home with professional home and residential window tinting services from Pro Tint.
Besides adding aesthetic appeal, you can also lower your energy costs, eliminate hot spots and protect your home from the damaging effects from the sun. Window tinting your home can typically pay for itself in just 5 years from lowered energy costs – how is that for VALUE. And you will continue to benefit from energy savings for years to follow, This is a wise as well as a prudent investment in your home.
Home window tinting affords you the following benefits:
1. Add aesthetic appeal and value to your home. Let us enhance your living space. Many colors to choose from for that "just right" look. From tradional window tints to soft glowing copper and bronze, we can highlight your home and maximize your comfort. We can provide you color to enhance and protect your world.
2. Protect your home from the damaging effects of the sun. Solar energy is harmful to your home. Now you can protect your draperies, furnishings, hardwood floors or carpet from damaging fading with home window tinting. Blocks 99% of harmful UV rays. Protect your investment and minimize health risks from sunlight with home window tinting.
3. High heat rejection helps to lower energy costs while providing you a more comfortable living experience. Eliminate problem "high heat" areas of your home.
4. Long lasting durability. Our scratch resistant window tinting films are durable and long lasting.
5. Low reflectivity provides a natural exterior view.
6. Enjoy increased privacy, protection and style. From clear to semi-transparent to total privacy, we have window tinting films that keeps your belongings and valuables out of sight of prying eyes. Additionally, we can add additional security with our protective window film in higher risk areas that help secure your home with a security film that lessens the chance of a smash-and-grab event.
7. Lifetime Warranty for as long as you own your home.
More Questions? Watch this excellent video from Johnson Window Film on the benefits of home window tinting.
Watch This Home Window Tinting Video Now
Let us enhance your home today, call (509)735-1010 for FREE ESTIMATE.
Here are just a few of the window tinting companies we can utilize to help you with your home window tinting project.
Johnson Window Films: Providing much more than just good looks and cool comfort, professional automotive window films from Johnson Window Films will deliver benefits beyond your expectations. From reducing fuel consumption to a safer, anti-glare view, you will enjoy an improved driving experience. When you choose one of our films for your vehicle, you're teaming up with 35 years of manufacturing experience and dedication.
SunTek Films: SunTek offers a full line of Automotive, Architectural, Safety & Security, and Specialty window film and window tint products. All SunTek Window Films are exclusively manufactured in the United States.
Llumar Window Films: LLumar automotive window tint can enhance your vehicle's appearance, reduce heat and glare to provide a more comfortable interior, and offer valuable protection against the unexpected. Look cool and feel even cooler with custom tinted windows featuring superior-quality LLumar window film.
Aegis Films: Advantage Automotive Films are manufactured unlike any other film. Made 100% in the USA, Advantage Automotive Films are designed to the specifications of installers. Advantage Automotive Films Heat-Shape very easily, therefore the film is less likely to be compromised during the installation process.
Madico: Madico Automotive Tints are available in a variety of shades and colors making it easy to accent the look of your car, while taking advantage of the pinnacle of tint technology.
This is just a sampling of the many different window tinting films you can choose from.
Call today for a FREE ESTIMATE: (509) 735-1010
Comments
comments